We help you generate revenue through qualified leads

Increase sales and marketing effectiveness
Let's face it – this is where many companies either fail directly or don't get enough out of their marketing spend. Either they are simply not good at selling more to the customers they already have or they are not capable of acquiring new leads, qualifying and handing those leads to sales in a structured fashion. 
Identify opportunities and focus
We help you set the right direction and focus. First we define where you have the biggest opportunities - examples of which could be direct lead generation, lead management, cross and up-selling to existing customers, or winning back lapsed ones. 
Always on – always nurture
Once we agree on where to focus, a more strategic approach to lead generation is where we start. As a prospect engages with your organization, we use content marketing to help you qualify, nurture and educate the leads to the extent necessary. Through online and offline advertising, email marketing, direct mail, social media, and educational webinars, we will work to ensure that your prospects are funneled through the customer journey.  
Nurturing can build brand and product preference long before prospects are ready to buy. According to SiriusDecions, in B2B, more than 80% of all information gathering is done online before the purchasing company even contacts the selling company. You are in serious trouble if you don't have full visibility of your customer's digital journey.
Connects marketing and sales efforts
With a structured lead generation process, marketing delivers documented, well-qualified leads directly to the inbox of the sales department. Research indicates that B2B companies with aligned processes between sales and marketing have more than 20% higher revenue than companies that don't1. 1) Source: SiriusDecisions
Use marketing automation to create efficient marketing performance
Efficient pipeline management requires a marketing automation platform. The benefits are huge: From insights into customer preferences to increased sales efficiency and lower marketing costs. 
Blue Business is a certified Act-On partner, and we have the experience to handle additional marketing automation platforms such as Marketo and HubSpot.
Is Account Based Marketing a more efficient strategy for you?
The 80/20 rule is true in most industries: you generate 80% of your revenue from 20% of your customers. Account Based Marketing (ABM) is a strategic approach that coordinates personalized marketing and sales efforts to open doors and deepen engagement within specific accounts.
Do not count the companies you reach; reach the companies that count!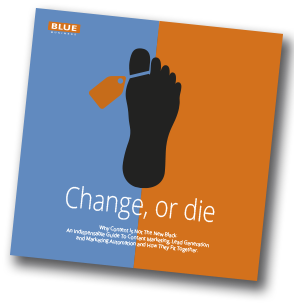 Download e-book
Want qualified leads? Learn more about how to approach lead generation, content marketing using marketing automation.