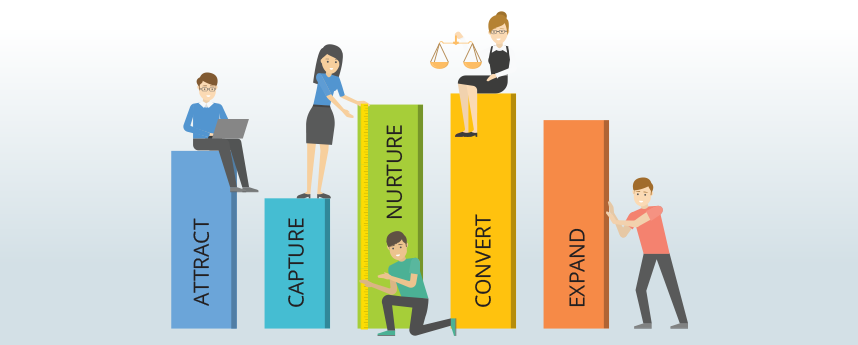 How to choose marketing metrics that matter to you – and the business
In our dialog with customers, we often hear marketers stating that a key challenge they face is defining their most critical marketing metrics and key performance indicators.
Ironically, more heads of marketing than ever are motivated by the opportunity to demonstrate how they impact the business. So, directionally the marketing department is very aware of its value and keen to find ways to tangibly depict how their efforts contribute to top and bottom lines.
The good news is that the critical data capture and insight to enable performance metrics is becoming more readily available as digital marketing platforms mature.
So, the combination of a marketing function eager to depict value and the access to data and insight bodes very well for marketers in so many ways.
Read on if you see yourself in a similar environment with similar ambitions about choosing metrics that matter most to your team – and of course the business.
Define your objectives.
According to a MarketingSherpa report, CMOs have a multitude of objectives, citing the following ones most frequently at the top of the list:
Achieving or increasing measurable ROI (52%)
Optimising the marketing and sales funnel (51%)
Getting greater audience insight (51%)
Maximising customer lifecycle value (47%)
These objectives clearly set the stage for where forward thinking and business minded marketing teams take aim.
Add to that the fact that new marketing tools and rapidly changing buyer behaviour require modern marketers to rethink which are the best metrics for evaluating their efforts. The old rules of relying on metrics like brand awareness, cost per lead, and lead-to-sales conversion rate are in need of an update.
3 steps to more clarity
Now let's look at a simple 3-step approach:
1. Analyse your customer journey
First, consider how you see your customers' buying journey. Typically, a B2B buyer will go through the following five stages:
Need: Prospect identifies a need and begins research solutions.
Short list: Research of solutions begin with a view to shortlist possible partners.
Evaluate: Prospect evaluates potential solution providers and decides on purchase.
Select: Customer takes on solution, installs product, upgrades and interacts.
Use: Over time the seller serves the customer and builds advocacy.
Does this apply to your company? If not, tweak it and make it relevant to your teams.
Tip: Involve your sales and business development teams for input and inclusion.
2. Identify your marketing objective for each buying stage
Once you understand what path your customer is on, analyse what you as a marketer are trying to achieve at each stage. Your customer's journey might translate to these marketing objectives: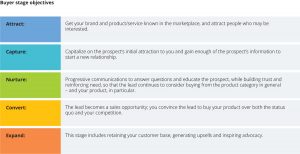 3. Select the metrics for each buying stage
Now select the most relevant metrics for your business at each stage of the buying journey. Here is a rundown of metrics options you could consider for each of your buyer stage objectives: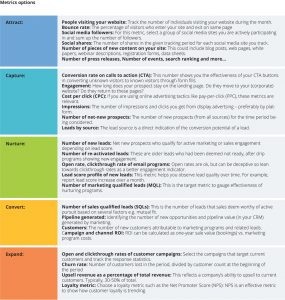 Review your platforms
When you have your objectives and metrics outlined, you have a solid baseline for what you want to achieve and how to measure.
A key enabler in this process is to validate that you have the right technology to help you bring all this to life. You should determine your ability to capture your data served up by your available platforms such as social media, marketing automation and CRM platforms.
More about this in a future blog.
Now download the eBook; The New Marketing Metrics for B2B to learn more.