Is selling and marketing to large corporations getting increasingly more complex?
Here is why you should care.
We hear more and more from companies selling to large companies that "no decision" is their biggest competitor. Research done in Germany by our partner Celsius International, documents that the bigger a company gets the more people are involved in the buying process. In fact, the research revealed that in companies with more than 1,000 employees at least 34 persons were involved directly or indirectly in the buying process.
If you are marketing to a large organisation such as a mining company owning several sites across the globe, or a shipping company with many independent business units on a global scale, you need to have the insights to manage your sales and marketing efforts across these accounts. This is where Account Based Marketing (ABM) kicks in. ABM is not about campaigns to larger corporations – ABM is a strategy. ABM is defined as "a strategic approach that coordinates personalised marketing and sales efforts to open doors and deepen engagement at specific accounts".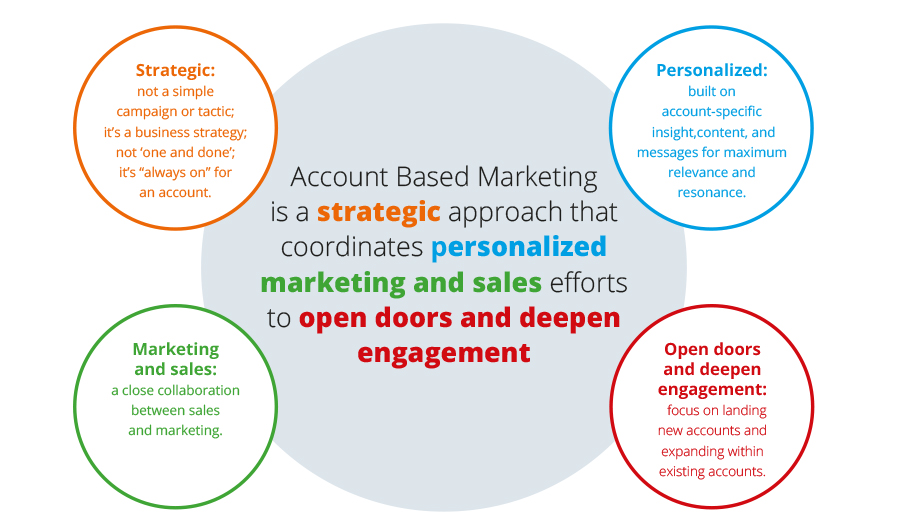 The sentence "Don't count the companies you reach, but reach the companies that count" says it all. Traditional lead generation is about attracting, capturing, nurturing, and converting leads and handing them over to sales as nurtured and qualified leads, typically called MQLs (Marketing Qualified Lead). With ABM, the traditional sales funnel is flipped; you start by identifying the account, then the contacts inside that account, and then the conversion process starts. Ultimately it is about converting an account, not a lead.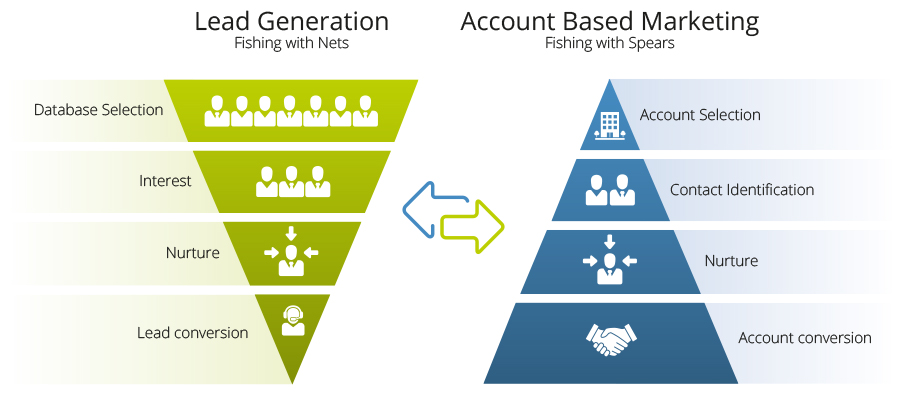 But let's not kid ourselves; according to a CMO survey in 2016, 67% of CMO's are struggling to prove the long-term impact of their marketing spend. One of the biggest challenges is the alignment between sales and marketing. According to a study by Miller-Pierce 50% of leads delivered by marketing are not followed up by the sales department. And of course, in B2B, where the sales process is long, complicated and with many people involved, it will always be difficult to judge whether it was the white paper provided by marketing or the presentation done by sales that made the customer sign the order. Personally, I think it will always be difficult to define the "decisive moment".
However, what I believe is a "must" in today's digital B2B marketing environment is insights. If you want to be successful in ABM your data must flow seamlessly between your CRM and your marketing automation platform. And ideally you should choose a platform with a strong ABM module such as Act-On. And why: because according to the G2 Crowd 2016 Report, Act-On has the quickest implementation and fastest time to ROI of all marketing automation platforms.
But what do you do when you have identified your ten top accounts, and realise that a big part of the contacts inside these accounts are not in your CRM or marketing automation database? And that you don't have email permission to start engaging with them.  This is where Account Based Social Advertising (ABSA) and Account Based Advertising (ABA) makes business sense. Both advertising strategies are about reaching your very targeted accounts and the persons inside these accounts as cost-effectively as possible. And as the new EU regulative on data protection (GDPR) is implemented in May 2018, ABSA and ABA will become even more relevant. With ABSA and ABA your marketing department can really reach the accounts that matter and there is no wastage in terms of advertising spend. Already now, we are seeing astonishing click through rates (CTR) that are way higher than traditional banner advertising. If you are interested in ABA you can download our free e-book "THE DEFINITIVE GUIDE TO ACCOUNT BASED ADVERTISING" here.
If you're considering an ABM strategy for your company here is my best advice:
Start with a pilot project
Start with targeting existing accounts
Make sure that you have top management commitment and;
Align marketing and sales
Finally, ensure you have the right marketing platforms to manage and monitor progress. Good luck with ABM.